Thank you to everyone who participated in NSS2016! We look forward to you joining us next year so please SAVE THE DATE for NSS 2017 - 11am, 24 May 2017.

National Simultaneous Storytime is an annual campaign that aims to encourage more young Australians to read and enjoy books. Now in its 16th successful year, it is a colourful, vibrant, fun event that aims to promote the value of reading and literacy, using an Australian children's book that explores age-appropriate themes, and addresses key learning areas of the National Curriculum for Grades 1 to 6 and the pre-school Early Learning Years Framework.
National Simultaneous Storytime is held annually by the Australian Library and Information Association. Every year a picture book, written and illustrated by an Australian author and illustrator is read simultaneously in libraries, schools, pre-schools, childcare centres, family homes, bookshops and many other places around the country.
By facilitating National Simultaneous Storytime, we aim to:
·         promote the value of reading and literacy;
·         promote the value and fun of books;
·         promote an Australian writer and publisher;
·         promote storytime activities in public libraries and communities around the country;
·         provide opportunities to involve parents, grandparents, the media and others to participate in and enjoy the occasion.
NSS receives positive media coverage, generates a great deal of community interest and is held annually as part of Library and Information Week.
In 2015 over 500,000 children at over 3,100 locations across Australia took part in National Simultaneous Storytime, reading the book The Brothers Quibble, written and illustrated by Aaron Blabey , enjoying a range of supporting educational activities, songs, games, dress ups and lots of fun. Have a look at some of the highlights from 2015.
This year NSS takes place on Wednesday 25 May at 11am (AEST) and we would love it if you could join us by sharing I Got This Hat written by Jol and Kate Temple and illustrated by Jon Foye.
Register to participate - it's free and we have some great activities and resources available to support your National Simultaneous Storytime event.
Everyone can join NSS - it doesn't matter whether you are a home school, a public library or even a university library! Invite a local school group into your workplace for an NSS morning tea, have some fun with your staff at an NSS morning tea or donate a copy of the book to your local library or childcare centre. There are endless ways to support NSS.
For more information about National Simultaneous Storytime, contact ALIA's Events team.
 
Registrations are NOW OPEN for NSS 2016. Make sure to register to recieve exclusive videos and resources on the Monday before!
Click here to register your location.
We are delighted to announce that the 2016 National Simultaneous Storytime book is:
 
I Got This Hat
I got this hat in China. I got this hat from a miner. I got this hat from a deep-sea diver. I got this hat from a racing-car driver... Hats. Only the headless dislike them. Everyone else loves wearing them! In this fun title we take a peek at the world around us through the playful medium of hats.
Written By: Jol and Kate Temple
Illustrated By: Jon Foye
Published By: ABC Books, an imprint of HarperCollins Publishers
Hardback ISBN 978 0 733 33206 7
Paperback ISBN 978 0 7333 3230 2
Buy the book: Please visit your local bookseller to buy I Got This Hat or click here to get a copy online.
Kate and Jol Temple enjoy wearing hats together. They wear them whenever they write. Jol prefers a fedora, Kate a fez. When in San Francisco they bought a hat from an ex-girlfriend of Clint Eastwood. Kate and Jol have written five books for children including Parrot Carrot, Mike I Don't Like and a new series of junior fiction called Jimmy Cook Discovers the Third Grade, which is due out in May.
When Kate and Jol aren't wearing hats (which is most of the time) they write ads. They live in Rozelle, with their hat-wearing boys Arlo and Clancy.
I Got This Hat is for anyone who's ever worn a hat and Kate and Jol are very excited it's been selected for NSS. To find out more about the authors, click here to visit their website.
Jon Foye is a big fan of the raccoonskin cap. He wears one continually when illustrating books. Jon also owns a jaunty alpine hat that he wears in semi-professional yodelling contests. Jon has illustrated three books written by Kate and Jol including Parrot Carrot and Mike I Don't Like, which was awarded Best Designed Picture Book in Australia. When Jon isn't drawing silly pictures he works as an Art Director. Jon lives in Rozelle with his wife Marissa and baby boy Archie, who has a thing for berets.
National Simultaneous Storytime 2016 is made possible by the generous support of our partners:
We (with thanks to Kate and Jol Temple, Jon Foye, ABC Books and HarperCollins) have made a number of resources available to support your National Simultaneous Storytime event.
All artwork, downloads and digital presentations are licensed for use only in conjunction with NSS events and activities. Please see the permissions from the publisher below for more information.
Images
Print graphics - Flyer, Letterhead
I Got This Hat themed activities - Find-a-word, Pirate hat template, Draw your own hat
Web graphics - Book cover, Banner, Email signature, Twitter cover, Twitter avatar, Facebook cover, Facebook avatar
Certificates - participants, locations
Ideas for your event 
Click here for great activity inspiration and ideas. It includes songs, rhymes, activity ideas and publicity information. 
Outside resources
Free Mobile App -  create your own ridiculous hats based on the hats in the book!
Reviews: Readings Review , Kids' Book Review , The Book Chook , Em Hawker Blog
Story Box Library - Watch your favourite stories read aloud by Australia's best storytellers. Story Box Library features over 100 stories by Leigh Hobbs, Sally Rippin, Aaron Blabey, Anna Walker, Gus Gordon, Andy Griffiths and more.
Story Box Library chose Anne Edmonds because she is the perfect storyteller to bring the story to life - her facial expressions and comic timing will have you laughing out loud! http://www.anneedmonds.com
Mitcham Library Service are once again celebrating literacy and literature with a dramatized video of the book! Check out the video here!
Videos
I GOT THIS HAT from Parrot Carrot on Vimeo.
Teachers' notes
Generously provided by HarperCollins  - to download click here
Downloads
Digital presentations of the book will be emailed to all registered participants on Monday 23 May 2016, so please ensure that you register before then to receive all resources. Please note that digital presentations of the book will be available only until Friday 27 May 2016.
Featured Events
Online
Chatterbugs are hosting thier first ever online simultaneous webcast live - link here
Kinderling radio will be broadcasting a live reading with Kate Temple, co-author of 'I Got This Hat', at 11am on Wednesday 25th, 

so children and carers listening from home or via theit app can read along and enjoy the book with lots of other kids across Australia.

Gold Coast Titans players 

Agnatius Paasi, Josh Hoffman and Ash Taylor get involved in this years National Simultaneous Story Time! Watch video here
VIC/NT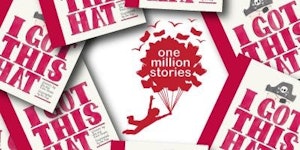 One Million Stories is an early literacy initiative by Yarra Libraries, Yarra Family and Children's Services and Alice Springs Public Library, bringing together libraries, early learning centres, playgroups and families in promoting the idea of a story a day for every child.
Every story, every book, every rhyme and song shared with a child promotes language and brain development, feeds the imagination, nurtures curiosity and wonder, and stimulates a love of reading and learning.
One Million Stories will celebrate and recognise the contribution that a whole community can make to the learning outcomes of our children.
The project will be launched by the Mayor of City of Yarra, Roberto Colanzi, with a video linkup to Alice Springs Public Library in a sharing of stories.
VIC
Whitehorse Manningham Libraries are excited to announce they have secured author, storyteller and self-confessed nerd, Sammy J., as their guest storyteller for National Simultaneous Storytime at Doncaster Library.
All details on their website here
We have a range of bright and fun merchandise for the promotion of your NSS event. *Limited stock now available*
Merchandise now available! Click here to order.
All prices include GST and postage. Members are entitled to discounted prices on merchandise orders so please log-in to purchase at the member price.
Please allow at least 5 working days (metropolitan areas) and 10 working days (regional areas) for delivery of items. Orders placed after 11 May 2016 cannot be guaranteed to arrive in time for NSS 2016.
Please visit your local bookseller to buy I Got This Hat or click here to get a copy online
 
HarperCollins Publishers have given the following permissions for National Simultaneous Storytime 2016:
On all occasions the below permissions will only be limited to the date of the event and to publicity surrounding the event:
Permission for participating organisations to present a translation of the book during the event with the condition that the translation is not printed or distributed and is used for the event only
Permission for participating organisations to present a dramatisation of the book with the condition that the presentation occurs only in connection with the event
Permission for participating organisations to have an interpreter translate and read the book in another language with the condition that the presentation occurs only in connection with the event
Permission for participating organisations to use an image of the book cover for NSS 2016 promotion
Permission for participating organisation to use the digital presentations of the book provided by ALIA for NSS 2016 storytelling. Please note that digital presentations of the book will be available only until Friday 27 May 2016.
Text of the book can be used in the following ways:
Presented as a readers' theatre
Presented as a storytelling
Presented as a puppet show
Translated for multicultural storytimes
Inspiration for activity sheets and lesson plans
For any other use of the book in conjunction with National Simultaneous Storytime 2016 please contact ALIA's Events team.
 
The first National Simultaneous Storytime was held during Library and Information Week 2001. From 2002 - 2007 NSS took place during National Literacy and Numeracy Week. In 2008, due to popular demand NSS returned to Library and Information Week with great success and continues to attract a wide audience from around Australia.
2015 was our biggest and most successful NSS to date with 500,000 participants at over 3,100 locations.
Check out the 2016 highlights for National Simultaneous Storytime. We love hearing about your NSS event, so please send your stories, photos and videos to events@alia.org.au or join the conversation on social media using the hashtag #NSS2016.